Website visitor privacy is an element that features high if you look at search volume trends in Google, Bing or any other online search tool.
Snoobi has combined all functionality related to privacy in the Snoobi Privacy Manager and extended several features.
Centralizing these settings under a single menu makes it easier for the Snoobi account administrator to review all settings in relation to privacy for their Snoobi Analytics account. It also means that changes to settings such as cookie-level or organization visibility no longer have to be made in the code on the website itself, simplifying management of these important compliancy settings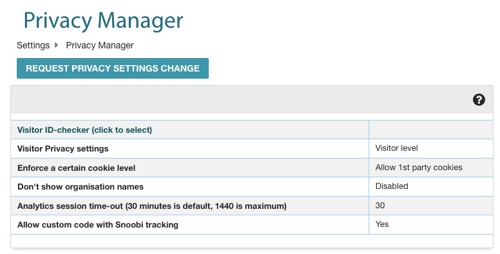 The following functions are available:
Visitor ID Checker - Allows for a web site owner to check if a request for information or removal by an individual is correct.
Visitor Privacy settings - There are two options for this setting. Account level for an account-wide removal of all privacy elements, or Visitor level based on the acceptance of cookies by the visitor.
Enforce a certain cookie level - Allows for settings to be made without touching the code on the website
Don't show organization names - Disables the naming of the visiting organizations. City/region and country information is maintained.
Analytics session time-out - Analytics sessions can be set to have a 24-hour length.
Allow custom code with Snoobi tracking - Allows for custom code to be added to the Snoobi tracking code.
With the exception of the 'Visitor ID Checker', all settings will be activated by Snoobi Service on request of the responsible account administrator. As many settings are destructive and change or remove already collected raw data we want to ensure our clients are aware of the potential impact before implementing. Additional customized settings are available, for instance to remove privacy-sensitive url elements such as names of individuals.
More information or want our specialists to assist?